OBITUARY - DENNIS CALVER (1916-2011) <![if !vml]>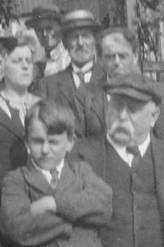 <![endif]>
Dennis Howard Calver was born on 6th May 1916, the second son of Harry John Buxton Calver, a lace warehouseman, and his wife Ethel Emma Bright. Within weeks of Dennis's birth his father joined up and was sent to France, and more than 80 years later Dennis would recount his earliest childhood memory, of his father in army uniform having come back from the Great War.
Harry Calver's family came from Suffolk: 5 generations of Calvers had been born in two adjacent villages to the north of Bury St Edmunds, but his father John moved to London to find work, and in the 1881 Census the family were living at Grove House in Acton, where he was the gardener (the building was later to become Acton Technical College). Before leaving Suffolk John had married a local girl, Emily Buxton, who is shown on the 1861 Census as a dairy maid, and it is her surname that Harry inherited.
The Bright family had originated in Essex, but also came to London, where Ethel's father John Bright was a bank messenger. His wife, Rose Stevens, died at 57, just 3 months after her grandson Dennis was born. By contrast John's mother was 87 when she died in 1923, so Dennis must have met her, although he had no firm recollection in his later years.
By the time of Dennis's birth the Calver family were living in Mafeking Avenue, Seven Kings in a house that backed on to the Fairlop Loop of the Great Eastern railway which at that time ran from Ilford to Woodford via Newbury Park (now part of the London Underground Central Line). As a child Dennis would watch the trains going past, and if it was a goods train he would count the wagons - indeed he loved counting, and many years later passed the habit on to his eldest son.
The Calver family attended Seven Kings Baptist Church, where at the age of 8 Dennis enlisted in the Band of Hope, a temperance organisation for children which had been founded in Leeds in 1847 and continues today as the charity Hope UK. However, in 1927 came an event that was to be play a big part in Dennis's life (indeed, it may have saved his life) - the establishment of a Boys' Brigade company at the church. As Dennis had yet to reach the minimum age of 12 he initially enlisted in the junior section, the Life Boys, before joining the 25th South Essex company the following year.
<![if !vml]>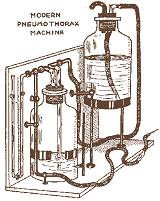 <![endif]> Around this time Dennis's elder brother Horace had contracted tuberculosis, a disease for which there was then no cure, and was confined to a sanatorium in Harold Wood, where they administered artificial pneumothorax treatment, which involved collapsing a lung by pumping air into the cavity around it - the aim being to give it a chance to heal. Whether by choice or by chance, Dennis had learned to play the bugle in Boys' Brigade, and this must have stood him in good stead when in turn he contracted TB in 1931, and like his brother before him was sent to Harold Court Sanitorium where he spent 10 lonely months. Whilst both boys survived their months at Harold Wood, their academic careers both came to an end: in Dennis's case this meant that he left Ilford County High school without matriculating, whilst Horace was forced to abandon his plans to complete his BA degree.
Whilst Dennis's hobby was playing the bugle, Horace was an ardent photographer who would develop and print the photos himself, a series of processes during which it was impossible to avoid inhaling the photographic chemicals. This cannot have helped when in 1936 he once again contracted TB, for this time he did not recover. He died in Orsett Lodge Hospital, a former workhouse, at the age of 25.
Having left school Dennis needed to earn a living and one day he spotted an advertisement for a small Adana printing press suitable for printing notepaper, invitations, tickets, and the like. A family friend who also attended Seven Kings Baptist Church, a Mr Morris, paid for the machine and for the next few years Dennis earned a modest income working from home. He continued to be involved with the Boys' Brigade, and gained a reputation within the company as a writer of comic songs. By 1939 war was on the horizon, and he joined the Ilford Air Raid Precautions Rescue & First Aid section. Many years later he recounted how he spent the first night of the war dressed in gas mask and protective clothing with colleagues in the Cauliflower Hotel in Seven Kings - and, it being a warm night, they "sweated in more ways than one".
In February 1940 he went with his father to the headquarters of the Honourable Artillery Company, in City Road, London. His father had served in the HAC during World War 1, and Dennis was keen to join the same regiment - which was the oldest in the British Army, dating from 1537 in the reign of King Henry VIII. His bugle-playing once again came in handy, because he was appointed one of the two trumpeters for 'D' battery, a role that excused him from guard duty - though of course he had to be up before everyone else to sound Reveille.
Keeping in touch with the folks at home was important for morale, and Dennis wrote an average of once a week throughout his Army career. His mother kept all of his hundreds of letters home though - because of censorship - there's barely a word about the War (except, possibly, between the lines).
On 17th November 1942 Gunner Calver D H wrote to his parents:
Another small epistle for your edification. You must realise I can't give you any more news but please understand that I am well, and enjoying myself in new experiences. Hope you've managed to get your daily "refresher" mum, and have you finished painting yet, dad? Cannot send you any more acrostics so you will have to be content with the Evening News version. Have written to Mrs Pegrum from this address, also Mrs Douglas. Shall miss her hospitality but hope the day will soon come when I can visit her in "civvies". Meanwhile it's up to us to finish the job.
<![if !vml]>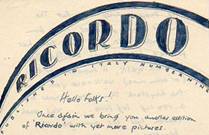 <![endif]> This was a coded message that they were about to embark for foreign shores, and in December 1942 Dennis arrived in North Africa where he was to serve until 1944, when the regiment were shipped to Italy, before a final posting to Austria in 1945. During this time Dennis was a lynchpin of the camp concerts, writing light-hearted poems and songs, some of which have survived until this day. As well as the bugle and cavalry trumpet he was also a competent player of the mouth organ, and adept with some unusual percussion instruments: spoons and bones. He later owned a xylophone.
Dennis was finally demobbed in early 1946, and on his Release Leave Certificate his Commanding Officer described him as "A very neat and intelligent worker. Since the end of the battle he has been invaluable as Painter and Designer, and a great asset in producing Battery Concerts."
 Returning to the family home in Roy Gardens, Seven Kings he went back to his peacetime occupation as printer, and back to the Boys' Brigade as an officer. He continued writing songs which were sung by the boys, and also - as he later discovered - by the members of the Girls' Life Brigade company when they were out rambling.
In 1947 the Boys' Brigade company were camping at Whitecliff Bay on the Isle of Wight. Although Dennis's mother was seriously ill he had been commissioned to write the camp theme song, so he attended for a couple of days to teach The Whitecliff Walk to the boys ahead of the camp concert - always the highlight of any Boys' Brigade camp:
<![if !vml]>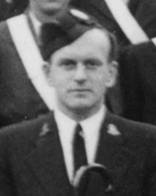 <![endif]>Put your hand on your hip, point your finger to the sky,
Turn your head to the left, and wink the other eye,
Going down the road, for a ball of chalk,
That's the way you want to do the Whitecliff Walk!
Knees together, never mind the weather,
Hand, hip, finger, sky,
Head, left, wink, eye,
Down the road, ball chalk,
That's the way you want to do the Whitecliff Walk!
["Ball of chalk" is Cockney rhyming slang for "walk"]
<![if !vml]>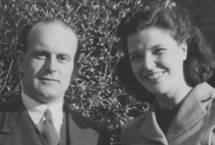 <![endif]> Coincidentally the Girls' Life Brigade were camping a few miles away at Cowes, and inevitably a party of them came over to the boys' camp for the concert - and this was the first time that Dennis remembered meeting a tall attractive girl by the name of Lilian Wells, who knew and admired his songs. Though Lilian was 10 years younger they married in September 1948, and Dennis began married life with his in-laws in Chadwell Heath. Music continued to play a big part in their lives, and they so liked a romantic song that they heard around this time (Chewing a Piece of Straw) that they adopted a couple of bars as the family call sign.
Dennis bought a larger printing press and rented a shop in Romford Road, Woodgrange Park, but by his own admission his business acumen did not match his expertise and enthusiasm, and after a few years he realised that - with a young family to support - it would be better to take a job. A friend who was a proofreader suggested that he took the exam, and having passed it he became a member of the splendidly named Association of Correctors of the Press, which dates back to 1854, and once counted Charles Dickens amongst its members (it merged in 1965 with the larger National Graphical Association). This enabled him to secure a job at Waterlow & Sons, a big London firm that printed many of the world's stamps and banknotes; much of his work involved checking insurance policies and company reports.
However, his ambition was to work for a newspaper, and he secured a job at the Guardian, later moving to the Sun (in the days before Rupert Murdoch turned it into a tabloid). There he worked out his career, retiring in 1981 at the age of 65 - but he never lost his love of printing, and during the 1960s and 70s he produced the Beacon, the magazine of Goodmayes Baptist Church (which he and Lilian had joined after the family moved to Goodmayes in 1958). This affinity for writing and publishing was passed on to his elder son, who edited a school magazine at the age of 11, founded a magazine for his Boys' Brigade company at the age of 14, and now writes an online genealogy newsletter with a circulation of over 57,000.
Dennis and Lilian had three children, two sons and a daughter, but sadly 3 years after they celebrated their Silver Wedding Anniversary Lilian was taken ill while on a family holiday, and she died 3 weeks later of liver cancer at the age of just 50. Dennis's mother had also died of cancer in 1947, so this was the second time that Dennis had lost a woman he loved to the disease - but sadly it wouldn't be the last.
In the 1940s there had been a young girl in the Girls' Life Brigade at Seven Kings Baptist Church who both admired Lilian Wells and sang the songs that Dennis had written for the brigades. Doreen Hine became Doreen Collins, and had three children - who she taught to sing Dennis's songs - but her marriage eventually broke down and she found herself on her own around the time that Dennis lost Lilian. Mutual friends brought them together, and in 1980 they married.
<![if !vml]>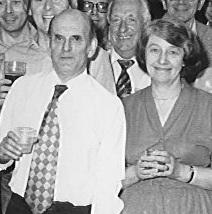 <![endif]> Although Dennis retired in 1981 he wasn't one for idleness, and he found a role that combined his affinity for words with his love for music. Over the next two decades he entertained thousands of people by putting on musical entertainments: choosing selections of music and interspersing them with poems and stories that linked them together perfectly. For example, on 23 March 1999 - at the age of nearly 83 - he was performing for the Tuesday Club at Seven Kings Methodist Church, and by July 2000 when he was 84 he had put on 206 presentations, all of them very well-received judging from the letters of thanks that he received.
During this period he also wrote Padre, Pastor & Poet, a biography of his friend Kenneth Parkhurst MBE, who had been the minister at Goodmayes Baptist Church in 1960s.
When he eventually cut back it was not because of his age or a lack of enthusiasm, but because his second wife, Doreen, had contracted cancer. Though she fought bravely she eventually lost the battle in March 2003, and once again Dennis was a widower.
Nevertheless, he was not alone and with the support of his children, step-children, and neighbours he was able to continue living in his own home, and celebrated his 90th birthday there in 2006. Words and, especially, music were still important and when he was no longer able to travel around presenting his unique programmes in person he created tapes that he would send to friends and relatives who he knew would appreciate them. Many of them were adapted from earlier programmes, but others were new collections, often under the byline 'Howard Denny', which was the stage name Dennis would have used had he ever gone professional. As technology progressed the tapes became CDs, and with the help of his sons he continued sending out new programmes right up to the end.
In his final years he depended on the help of carers, first in his own home, and then in a care home. By this stage he was beginning to suffer from short-term memory loss and developed other signs of early-stage dementia - but thankfully it didn't change his nature - he continued to be as quiet, polite, and friendly as before.
Dennis's final battle came in March 2011 when he was hospitalised with pneumonia. Although there were initially signs of recovery, in the early hours of Thursday 10 March he died peacefully in his sleep with his children at his side and some of his favourite music playing softly in the background.